Standard First Aid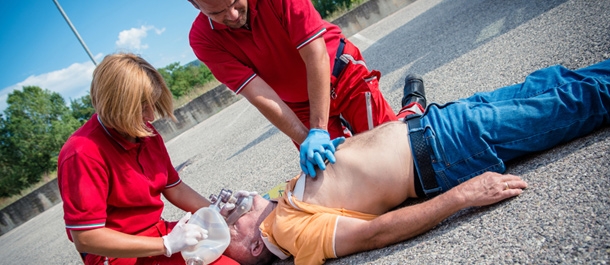 3 Year Certification
Course Duration - 2 Days (16 hours)
Who Should Take This Course
Every Ontario workplace must have a person certified in First Aid/CPR. This applies to each worksite or work location, on every shift, including Head Office. This 2-day course is recommended for anyone in the construction industry.
Now featuring Casualty Simulation. This is a comprehensive two-day course offering first aid and cardiopulmonary resuscitation (CPR), skills with a focus on injuries and illnesses and a certification that lasts 3 years. It takes hospital emergencies for the rescuer to an entire new level - a unique design of practical skills of CPR and First Aid.
Course Description
This CPR and First Aid certification course includes the latest Red Cross Guidelines on how to provide CPR on an Adult including use of an Automated External Defibrillator (AED). It also covers everything a basic responder needs to know about providing first aid for a variety of common medical emergencies that occur in adults and children.
Topics Covered in This Course:
Anatomy and physiology of the circulatory system
Adult CPR
Scene Safety
The Chain of Survival
Recognition of a Heart Attack and Cardiac Arrest
Personal Protective Equipment
The CAB'S
Mouth-to-Mouth Ventilations
Signs of Circulation
Chest Compressions
Compression Only CPR (Adult)
One Rescuer CPR (Adult)
Two Rescuers CPR (Adult)
Rescue Breathing
Choking (Adult)
Use of an Automated External Defibrillator (AED)
Standard First Aid
Recognizing an Emergency
Emergency Action Steps
Checking for Scene Safety
Preventing Disease Transmission and Universal Precautions
Checking the Victim for Consciousness
Moving a Victim
Reporting to EMS
Secondary Assessment (Head to Toe Examination)
Caring for Shock
Bleeding and Wound Management
Burns
Poisoning and Drug Overdose
Environmental Related Illnesses
Muscle, Bone, and Joint Injuries
Medical Emergencies
General Illnesses
Heart Attack
Breathing Emergencies, i.e. asthma, COPD
Stroke
Diabetic Emergencies
Seizures