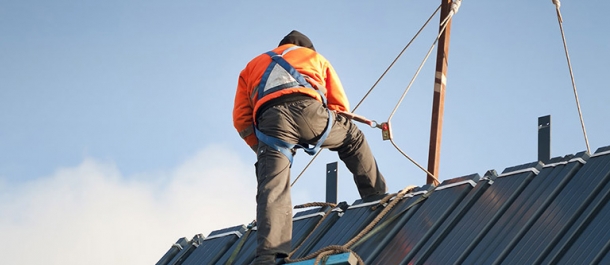 Working at Heights and Working at Heights Refreshers
3-Year Certification for Both
Course Duration
Full Course: Minimum course length 6.5 hours (mandated by MLTSD)
Refresher: Minimum course length 3.5 hours (mandated by MLTSD)
Who Should Take This Course
Mandatory for anyone in the construction industry working at heights (e.g. ladders, scaffolds, roofs etc.)
Formerly known in the construction industry as Fall Protection, this new standard came into effect April 2015. This Working at Heights Safety Training Program is a requirement for workers on construction projects who may use any of the following methods of fall protection:
Travel Restraint Systems
Fall Restricting Systems
Fall Arrest Systems
Safety Nets
Work Belts or Safety Belts
Course Description
The Working at Heights Training Program Standard is designed to support consistent and quality training for workers in the Province of Ontario, with respect to core competencies required for Working at Heights regarding the following areas:
To Strengthen workplace safety culture.
To Elevate importance of preventing falls from heights.
To Provide knowledge about hazards and general safety practices.
To Inform workers about the purpose of personal fall protection equipment and its use.
To Reduce the number of falls-from-heights incidents, injuries and fatalities.
Participants will be evaluated on both their written knowledge and the hands-on practical evaluation.
The instructor will conduct a short review at the end of each segment followed by a quiz that will be sent to the Ministry of Labour, Training and Skills Development.
After you have successfully completed the training and evaluation, you will be issued a record of training and a certificate from the MLTSD.
There are two modules to the Working at Heights Training Program: Working at Heights Basic Theory and Working at Heights Practical. The Working at Heights Basic Theory module must be successfully completed before the Working at Heights Practical module is taken.