Safety Consultation Services
Compliancy Checklist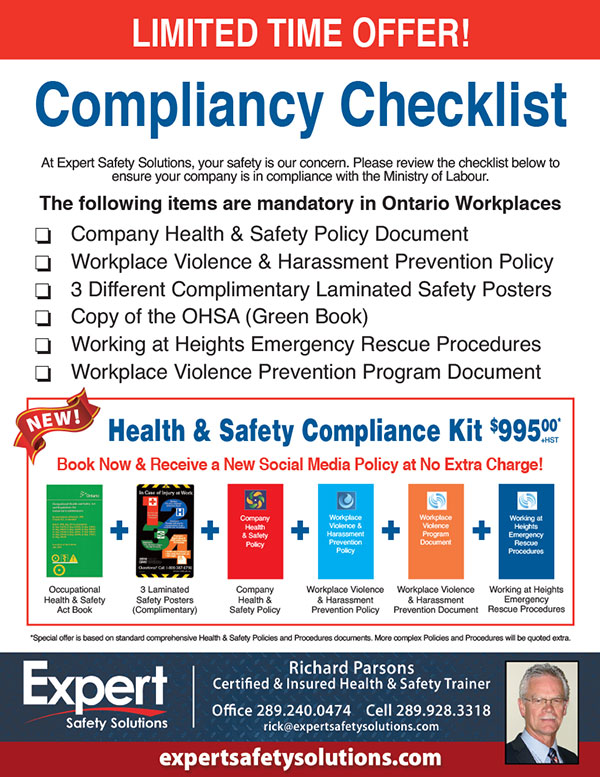 The Ministry of Labour, Training and Skills Development deems the following items are mandatory in all Ontario Workplaces and must be available for a MLTSD Inspector.
Company Health and Safety Policy Document
Workplace Violence and Harassment Prevention Policy and Progam
Working at Heights Emergency Rescue Procedures
Copy of the OHSA (Green Book)
Three Complimentary Laminated Safety Posters
So that you may be compliant, we have developed a straightforward and comprehensive Health & Safety Manual with the above categories covered.
Health and Safety Program Assessment
Many businesses are not aware of the various regulations and requirements that are required by law, and are thus defenseless in a court of law if Due Diligence must be proven. This service identifies possible violations of the Occupational Health & Safety Act and recommends the proper course of action to correct them, BEFORE an accident happens, thus lowering your liability and risk.
This is a free no-obligation Health and Safety Assessment for the workplace. By analyzing your existing Health and Safety Program, we can identify areas where correction is needed, highlight your unique Health and Safety needs and make suggestions for improvement.
Health and Safety Policies & Manuals
A Health and Safety policy is a document of principles and goals that embody the company's commitment towards Health and Safety. A policy must be clearly stated and easy to understand, followed by every employee and reviewed annually. The OHSA (Occupational Health and Safety Act) requires that employers with more than 5 employees prepare a policy, review the program and sign the policy once a year and set up a program to implement the policy. Expert Safety Solutions offers a consultation service of creating Health and Safety Polices and Manuals. This can be done after completing a Health and Safety Assessment to discover any deficiencies that may exist.
Construction Site Safety Inspections
New Home Construction Site Inspections
After a meeting to discuss your project and safety needs, Expert Safety Solutions will set up a regular inspection schedule to visit current construction sites to discern any areas of improvement, especially areas where the Ministry of Labour, Training and Skills Development may take notice. A 60 point inspection sheet will be supplied with comments and suggestions necessary to keep employees safe and eliminate fines or stop work orders.